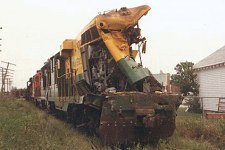 First, let us note that IAIS has a good safety record, as evidenced by receiving several Harriman Memorial Safety Awards throughout the years. IAIS has received several Gold Harriman Award over the years, each representing hundreds of thousands of worked hours without a single reportable injury. What's here isn't meant to detract from IAIS's safety record, but no matter how safe and careful a railway might be, incidents inevitably occur, often driven by outside forces out of the railroad's control. Some of the derailments and collisions in the past have changed the railroad or affected its roster, and as such we feel should be covered and documented.
The most tragic, and probably best remembered IAIS wreck was the Altoona, IA, head-on collision of X470W and X406E back on June 30, 1988, taking the lives of both crewmen on the westbound, causing the evacuation of part of Altoona, and destroying or seriously damaging five locomotives. Michael lived in Altoona and near the evacuation radius at the time, and somewhere early on in the development of the Unofficial IAIS site, obtained a few photos of the aftermath of the wreck. It has its own page [here]. Fortunately, Altoona was a one-of-a-kind incident on the IAIS.
Most of the other derailments have been the result of track or equipment and thus rather minor in nature. One of the more significant ones, from a fan's point of view, was the collision of an eastbound grain train and a loaded gravel truck just west of Coralville, IA, on 19-Nov-1997. Caused when the gravel truck driver ignored the grade crossing signals, the wreck totalled IAIS 400, the only ex-Rock Island unit on the roster, as well as damaging 101 and wrecking about 7 freight cars. Thanks to the devoted IAIS folk both at the corporate level for providing the money and at the Council Bluffs, IA, shops for rebuilding it, 400 was completely rebuilt and back on the road five years later in 2002. See more information, as well as photos of the damaged units at Iowa City, on its page here.